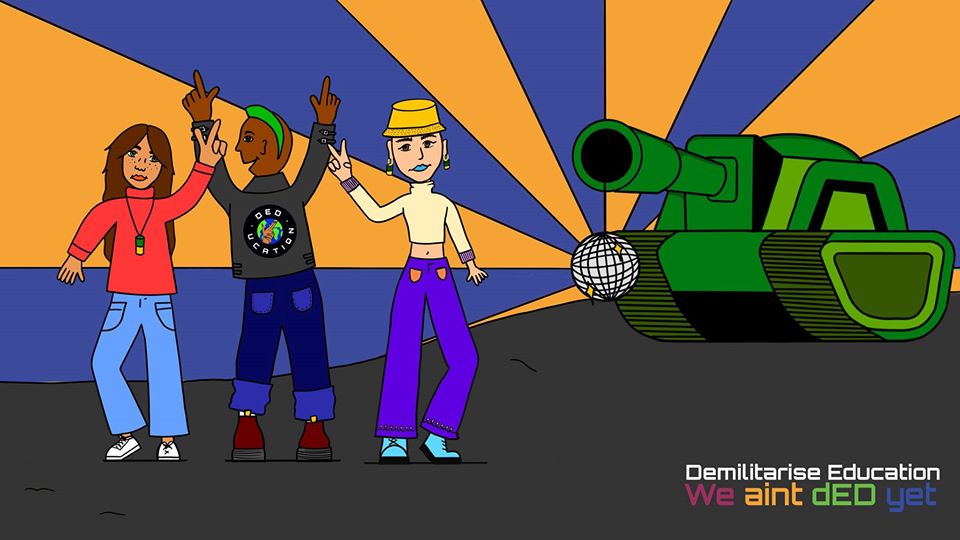 Area of interest:
Administration, Art and Design, Business Management, Community Work, Education, Event Support, Fundraising, Human and Civil Rights, International , Marketing, PR and Media, Research
Stellify Award:
This opportunity is part of 'Make a Difference'
Organisation Details:
Demilitarise Education (dED_UCATION/dED) is a community and guide for modern day peacemakers, working to see universities break from the global arms trade and become champions for peace. We use research, media and community to further untangle, expose and end university partnerships with the military and defence sector, and see them focus their efforts on peace development.
So far, we've created a demilitarisation model and treaty, the world's first university and arms database, and a growing community space which provides a safe and inclusive platform for young people to build their knowledge, skills, confidence and collaboration with other peacemakers.
Demilitarise Education Model means: The process of gaining signatures to the Demilitarise Education Treaty (phase 1: engagement), working with universities to ratify that agreement (phase 2: ratification) and then make the changes needed to demilitarise and become champions of peace (phase 3: implementation).
Description of role
dED_UCATION (dED) is a community and guide for modern-day peacemakers, guiding universities to drive world peace. dED exists to further untangle, expose, and end military partnerships within universities, to see that these unethical activities are redirected towards advancing world peace and sustainable development.
We want you to be an important part of the dED community.
Right now we are dED_ICATED to three core aspects of our organization:
1. Social Media (dED Content Collective)
2. Research (dED Demilitarisation Model)
3. Community
We need your help in fulfilling our core goals. If you feel passionate about this and feel you can contribute please get in touch! We look forward to hearing about your interest.
*Please note: We are operating our volunteer programme at a limited capacity and onboarding will be slow. If you have any questions or just feel like a chat, we will be at the Volunteering and Social Justice Fair on October 22nd from 11-2. We will wait until after the fair to reach out about your involvement. Your time, interest, and understanding in this busy and difficult time are very appreciated! Thank you.
Skills / qualities associated with the role:
Numeracy and Finance, Creative Skills, Administration, Event Planning, Fundraising, IT Skills, Leadership, Marketing and PR, Oral Communication Skills, Practical Skills, Project Management, Public Speaking, Research, Team Working, Written Communication Skills
Are volunteer expenses available?
Yes
Duration of role:
Ongoing / Long term
Opportunity times:
| | Mon | Tue | Wed | Thu | Fri | Sat | Sun |
| --- | --- | --- | --- | --- | --- | --- | --- |
| Morning | | | | | | | |
| Afternoon | | | | | | | |
| Evening | | | | | | | |
Can reasonable adjustments be made regarding additional needs?
Yes
Is this organisation part of the Sports Volunteering Scheme (SVS)?:
No
Minimum hours commitment
None
Partisan Collective, 19 Cheetham Hill Rd.