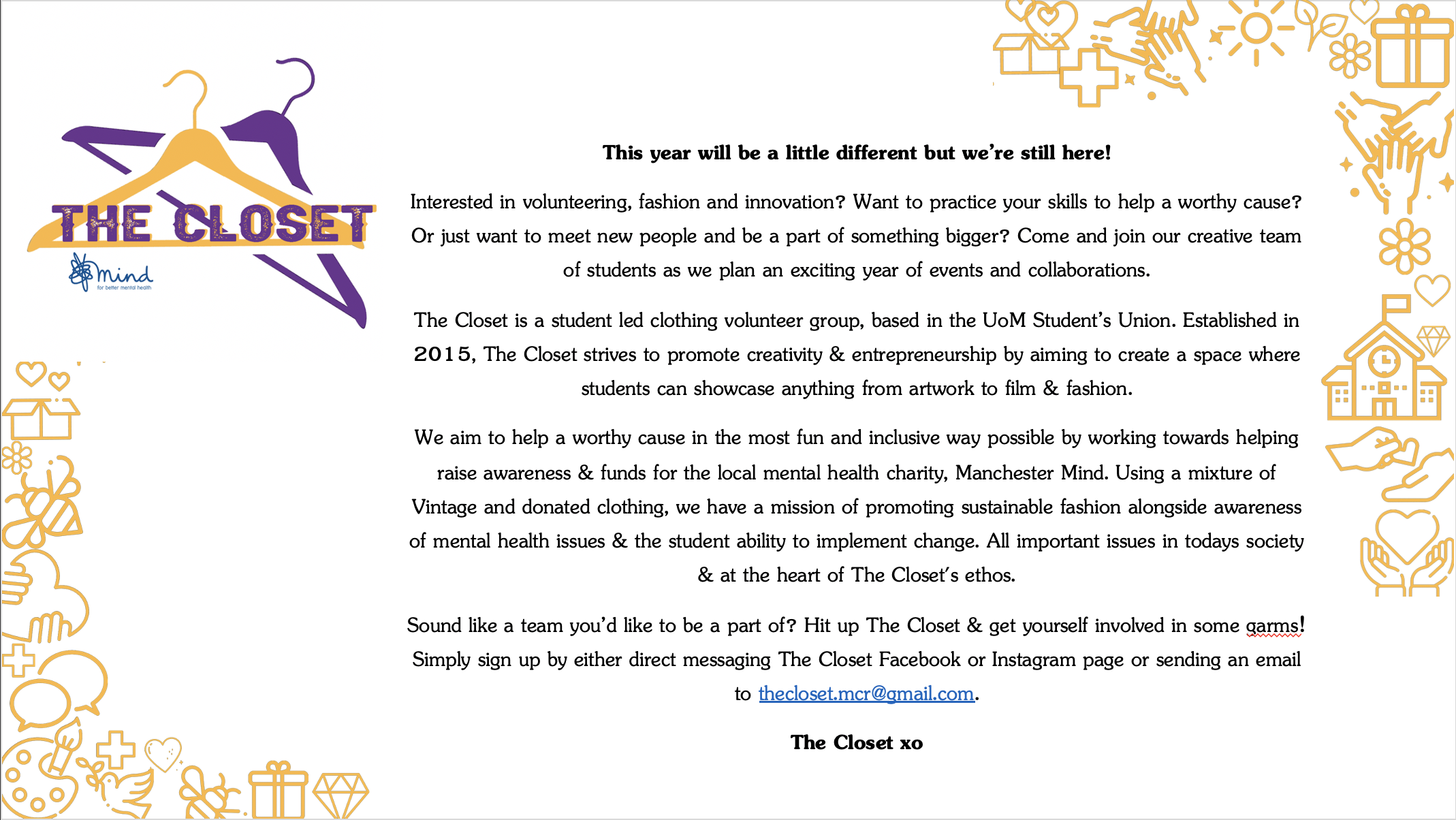 Area of interest:
Art and Design, Business Management, Event Support, Fundraising, Health and Wellbeing, Marketing, PR and Media, Mental Health, Retail
Stellify Award:
This opportunity is part of 'Make a Difference'
Organisation Details:
Interested in volunteering, fashion and innovation? Want to practice your skills to help a worthy cause? Or just want to be part of something bigger? Come and join our creative team of students as we plan an exciting year of events and collaborations.
The Closet is a student led clothing volunteer group based in the UoM Student's Union. The team encompasses student creativity by aiming to create a space where students can showcase their work and meet new people, whilst helping to raise awareness and funds for the local mental health charity, Manchester Mind.
Established in 2015, The Closet aim's to promote student creativity and entrepreneurship showcasing anything from artwork to film and fashion. We strive to create a place for people to showcase their work and promote student action whilst working towards helping a local charity.
At The Closet we aim to help a worthy cause in the most fun and inclusive way possible. After our years of success raising money and awareness for the charity through various sample sales like Nasty gal & Misguided, we can only hope for even more success for the year going ahead! Taking from a mixture of Vintage and donated clothing, we aim to encompass a mission of promoting sustainable fashion alongside awareness of mental health issues and the student ability to implement change, all truly important causes in today's society, and at the heart of The Closet's ethos.
Sound like a team you'd like to be a part of? Come on down to The Closet and get yourself involved in some garms!
Simply sign up by either direct messaging The Closet Facebook or Instagram page or sending an email to thecloset.mcr@gmail.com.
Description of role
The Closet strives to promote creativity & entrepreneurship by aiming to showcase anything from artwork to film & fashion. We aim to promote sustainable fashion alongside awareness of mental health issues & the student ability to implement change in the most fun and inclusive way possible.
There are a few roles within the volunteer group that help us to achieve this.
- Marketing & promotion (creating promotional posts for i.e. events. Promoting The Closet and Manchester Mind charity as well as our achievements and upcoming events).
- Social media (Keeping up to date with posting messages, taking videos and images to upload during and after events).
- Event management & admin (Helping to organise events, getting creative with what events we will do with things being mostly online, designing and layouts of events).
- Buying (Helping to decide who would be best for us to collaborate with and choosing what we will make/sell at events).
- Creative design (Helping to decide what we may make for events and how we can use creative design online).
This is a flexible group, therefore you are more than welcome to move between roles to experience each one.
*
The University of Manchester and Students' Union Volunteering Teams welcome and encourage all students to get involved in volunteering. As a University we promote equality and welcome students from all ethnicities, genders, religious backgrounds, sexual orientations, ages, socio-economic backgrounds and disabilities.
We aim to support all students in their application process and during volunteering. Should you need any help, and/or adjustments with the application or wider volunteering process please contact the University of Manchester Volunteering Team at: volunteers@manchester.ac.uk or the SU Team at volunteering.su@manchester.ac.uk
*
Skills / qualities associated with the role:
Creative Skills, Event Planning, Fundraising, Marketing and PR, Oral Communication Skills, Practical Skills, Team Working, Written Communication Skills
Are volunteer expenses available?
No
Duration of role:
Ongoing / Long term
Opportunity times:
| | Mon | Tue | Wed | Thu | Fri | Sat | Sun |
| --- | --- | --- | --- | --- | --- | --- | --- |
| Morning | | | | | | | |
| Afternoon | | | | | | | |
| Evening | | | | | | | |
Can reasonable adjustments be made regarding additional needs?
Yes
Is this organisation part of the Sports Volunteering Scheme (SVS)?:
No
Minimum hours commitment
A few hours per month
Students' Union, Oxford Road