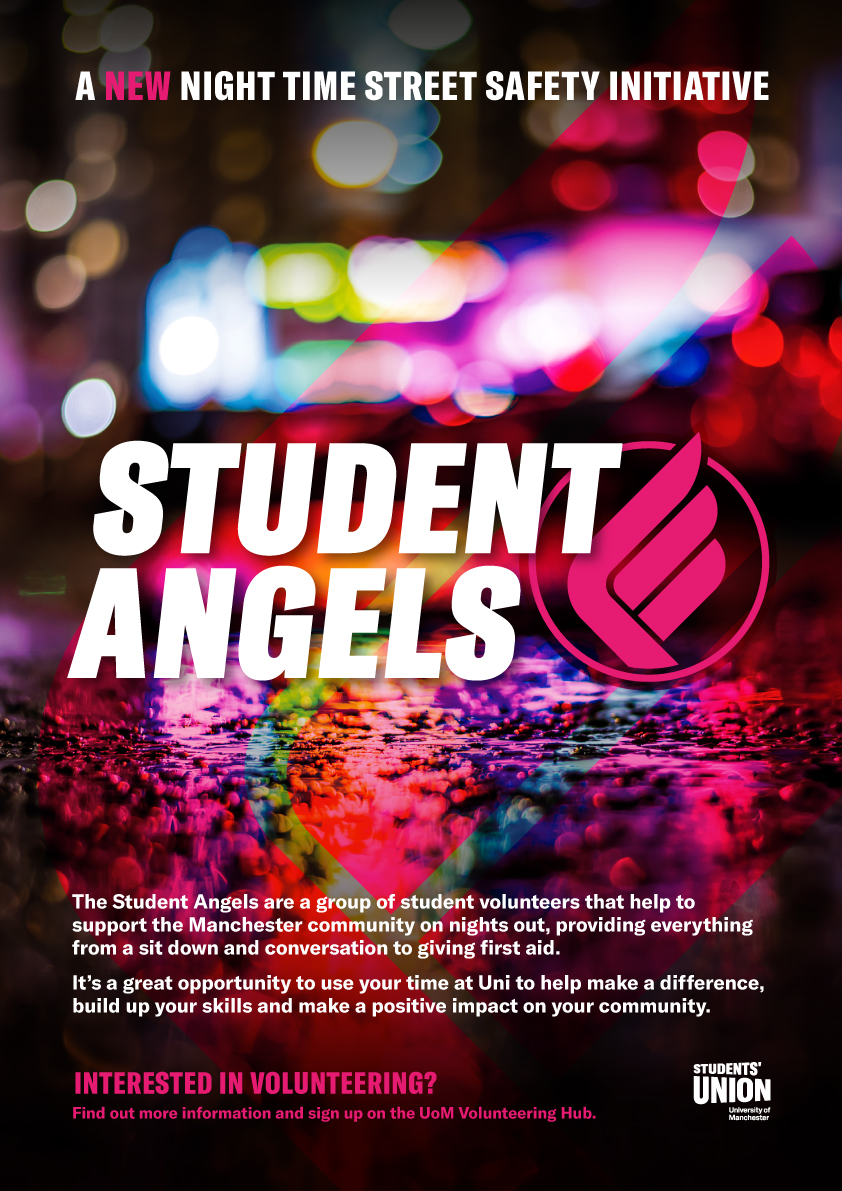 Area of interest:
Advice, Information and Support, Community Work, Counselling and Listening, Drugs, Alcohol and Addictions, Event Support, First Aid, Health and Wellbeing, Homeless and Housing, LGBT+, Mental Health, Mentoring, Befriending and Buddying, Youth Work and Young People
Stellify Award:
This opportunity is part of 'Make a Difference'
Organisation Details:
Placed at the heart of campus, the University of Manchester Students' Union is the hub of student life. We understand better than anyone that student life isn't just about studying. It's about supporting change; helping students make friends, gain vital skills for life, enjoy new experiences, and campaign on something important.
We've been facilitating that for the last 155 years. As the largest Students' Union in the country, our mission is to be the voice of students at Manchester, effecting change and enriching student life together.
Our vision is for all students to feel part of the Manchester community where they can develop, prepare for their future and can make a difference in the world around them.
Here at the Students' Union we offer plenty of ways for you to get involved in volunteering during your time at University.
Manchester RAG organise year-round exciting events and challenges to raise money for local, national and international charities.
Student Action run a huge number of student-led weekly volunteering projects and one off events helping people in the local community.
Access All Areas are a collection of education projects run by students in schools, colleges and communities- all of which share the aim of improving access and widening participation in education.
Check out our opportunities!
Description of role
We have an exciting opportunity to volunteer with our Student Angels project, organised by the Students' Union in collaboration with Manchester City Council. The project is a night-time street safety initiative, which involves teams of trained student volunteer leaders and support volunteers heading out into the Manchester University and Oxford Rd area at peak night times over the weekend to support our student community in a variety of ways. The Student Angels supported over 600 people since September 2019, and with your assistance we can continue to improve the project and help many more!
Each shift involves 1-2 shift leads and 2 support volunteers, equipped with a range of equipment including phone chargers, water bottles, a first aid kit and foil blankets. You'll be able to help the Manchester community with a variety of common problems, like being separated from their friends, having a phone battery die, needing a taxi calling, or requiring some basic first aid.
Student Angel volunteers work from 10pm until 4am on Friday and Saturday nights (with occasional shifts on other days for special events, including Welcome Week). The costs for refreshments when volunteering along with any transportation costs from travelling to shifts will be reimbursed through the standard Student Union process.
COVID-19 adaptations:
• All volunteers will be equipped with PPE, including face visors and gloves
• Sanitiser will be provided and must be used as appropriate
• Disposable masks will also be provided for use by either volunteers or any service user who request one
• To avoid the sharing of equipment, all volunteers will be given their own personal uniform, for which they will be responsible
• Taxis will be offered to volunteers both to and from shifts in order to avoid the use of public transport
• If a volunteer experiences symptoms up to two weeks before a shift, or has been in contact with someone who has symptoms, they should make the project leader aware as soon as possible so that they can reorganise the shift
• If a volunteer experiences symptoms up to two weeks after a shift, they should make the project leader aware as soon as possible so that they can let all those who were on shift with the volunteer aware that they should get tested
Route:
• In order to reflect the new reality of nightlife in Manchester, we have looked at changing the city centre route to encompass more of the city's bars and pubs rather than focussing on clubs
• We have also begun looking into the feasibility of operating a Fallowfield shift with shorter hours to help provide support to the increased number of students who will be going out in the area now that clubs are shut
Volunteering in this role could help you develop the following skills, and gain experience of:
• Leadership and mentoring.
• Team work.
• Confidence building activities.
• Supporting and speaking to members of the public.
• Talking about sensitive subjects.
• Skills in providing help and support.
• Skills in responding quickly and efficiently to stressful situations.
Typical duties:
• Attend shifts as a shift leader and support the Angels team in the delivery of the programme.
• Be a friendly, welcoming presence to the public on shift, and be aware that you are a highly visible ambassador for the Students' Union and the LGBT Foundation at all times.
• Have a good understanding of local services and advise accordingly.
• Engage in brief interventions with service users around a variety of issues – e.g. mental health, sexual health, substance abuse.
• Effectively lead a small team of volunteers whilst on shift.
• Work with vulnerable people to help them to get home safely.
• Escalate any issues to the on-call LGBT Foundation staff member if necessary and provide a debrief.
• Fill out the shift diary form, summarising each shift.
• Notify the staff contact at the Students' Union in as much time as possible if unable to attend/maintain your commitment to your shift.
Skills and knowledge required:
• Ability to lead a team of volunteers, providing support and escalating issues as necessary.
• Confidence when talking to new people.
• Ability to think on your feet, and to creatively solve problems.
• Able to communicate effectively with a wide range of people about a diverse range of topics.
• Trustworthiness and honesty.
• Ability to remain calm in stressful and challenging situations.
• An understanding of personal safety.
• Confidence engaging with adults who are under the influence of alcohol or drugs.
• An understanding of and a commitment to client confidentiality (in accordance with Confidentiality Procedures and Policy as outlined in initial training).
• Confidence talking about sensitive issues such as sexual assault or addiction.
• Ability to locate information for service users.
• A strong commitment to equal opportunities and diversity.
• Flexibility around volunteering availability, and a willingness to work unsociable hours.
Essential training and support required for the role:
• Attendance at a training day for the role, you must attend one of the training days to be able to volunteer.
• Completion of a 1 day first aid course.
• Debrief to SU staff and attend one-to-ones.
The Students' Union welcomes and encourages all students to get involved in volunteering. As a Union we do not discriminate based on background and we welcome students from all ethnicities, genders, religious backgrounds, sexual orientations, ages, socio-economic backgrounds and disabilities.
We aim to support all students in their application process and during volunteering. Should you need any help, and/or adjustments with the application or wider volunteering process please contact the Students' Union Volunteering and Fundraising team at: volunteering.su@manchester.ac.uk.
Skills / qualities associated with the role:
Team Working
Are volunteer expenses available?
Yes
Duration of role:
Ongoing / Long term
Opportunity times:
| | Mon | Tue | Wed | Thu | Fri | Sat | Sun |
| --- | --- | --- | --- | --- | --- | --- | --- |
| Morning | | | | | | | |
| Afternoon | | | | | | | |
| Evening | | | | | | | |
Can reasonable adjustments be made regarding additional needs?
Yes
Is this organisation part of the Sports Volunteering Scheme (SVS)?:
No
Minimum hours commitment
6 hours (one shift a month)
University of Manchester Students' Union