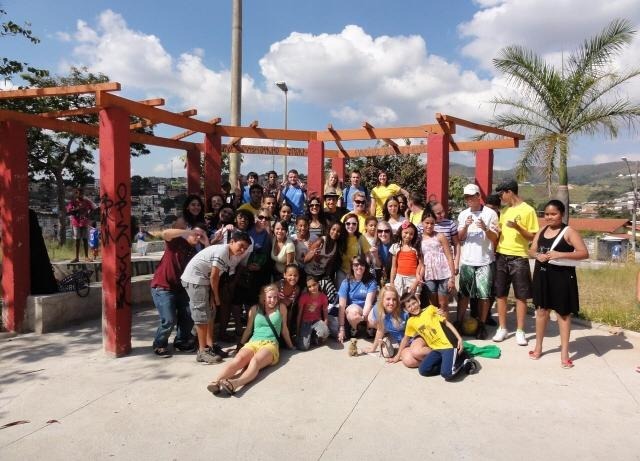 Area of interest:
Administration, Advice, Information and Support, Art and Design, Children, Community Work, Culture, Education, Event Support, Fundraising, Languages, Sports and Outdoor Activities , Teaching, Training and Coaching, Trusteeship and Committee Work , Youth Work and Young People
Stellify Award:
This opportunity is part of 'Make a Difference'
Organisation Details:
The BHZ CONNECTION project's main aim is to contribute to the educational development of young people and adolescents from low-income families by teaching languages including Portuguese and foreign languages (English, French, Spanish, etc…) as educational tools.
Using activities such as Drama, Capoeira Angola, art, educational games, reading, music and physical education the students learn other languages, thereby facilitating cultural exchange with volunteers from different countries.
ACCA aims to provide young people the experience with a cultural exchange between England and Brazil
ACCA offers cultural experiences to young people and includes learning activates, group work, sociability and social protection and which focuses on the establishment of one living space and working in participatory approach, the development of the autonomy of children and adolescents, from particular demands and potential presented by each.
We believe that if we provide a motivating environment, dynamic, cheerful, with meetings, studies, planning and reviews happening systematically, it is possible to guarantee children and adolescents' rights to leisure and culture, contributing to the educational, emotional, professional and psychological development.
Description of role
* Due to the pandemic, this role will be completely online*
We are looking for a webmaster to take charge of the organisation's website. The webmaster will be responsible for:
* Updating website content and redesigning the website when required.
We are looking for a student with Computer Science or IT background interested in website design or any other student with knowledge and experience of website design.
Availability:
The role is flexible and the volunteer needs to only complete the work by particular deadlines allowing time for other activities. If interested, the volunteer can also help in other activities like social media and fundraising.
Benefits:
* Ability to work with like-minded people interested in providing foreign language education to disadvantaged students in Brazil.
* Good experience for your CV and will provide references if required.
Skills / qualities associated with the role:
Creative Skills, IT Skills, Marketing and PR, Research, Team Working
Are volunteer expenses available?
No
Duration of role:
Fixed / Short term
Start date:
10th September 2020
End date:
10th December 2020
Opportunity times:
| | Mon | Tue | Wed | Thu | Fri | Sat | Sun |
| --- | --- | --- | --- | --- | --- | --- | --- |
| Morning | | | | | | | |
| Afternoon | | | | | | | |
| Evening | | | | | | | |
Can reasonable adjustments be made regarding additional needs?
Yes
Is this organisation part of the Sports Volunteering Scheme (SVS)?:
No
Minimum hours commitment
2 hours per week (flexible)