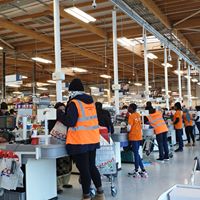 Area of interest:
Campaigning and Lobbying, Community Work, Counselling and Listening, Fundraising, Health and Wellbeing, Marketing, PR and Media, Mental Health, Mentoring, Befriending and Buddying, Older People, Retail
Stellify Award:
This opportunity is part of 'Make a Difference'
Organisation Details:
Supporting widows and widowers who are socially excluded due to their bereavement.
Description of role
We need volunteers to join us with our bag packing to support women who have experienced bereavement. This is to enable us to be able to pay our regular creative workshop facilitator that supports widows with therapeutic sessions in the community, volunteers expenses for our home visit program, taking widows out for a meal/day out, pampering sessions (spa) etc.
This is a chance for you to have fun chatting with customers while gaining skills in customer service and valuable volunteering experience, and the satisfaction of knowing that you are supporting vulnerable people in our community is very rewarding and also good experience to put on your CV.
The session will be flexible. We are looking for 18 volunteers to cover this event. It will be great to have help from students studying at university, so you can help us to raise much-needed funds to support the widows in our community.
Date: 21/11/2020
Time: 10am-4pm including set up and packing away
TESCO GORTON, HYDE RD, MANCHESTER M18 8LD
Tasks:
- Helping customers pack their bags at the tills
- Handing out organisation leaflets
- Promoting and raising awareness of the organisation and the work we do
- Helping us to fundraise to support the work we do
Skills / qualities associated with the role:
Creative Skills, Commercial Awareness, Customer Service, Event Planning, Fundraising, Leadership, Marketing and PR, Oral Communication Skills, Practical Skills, Project Management, Public Speaking, Team Working
Are volunteer expenses available?
Yes
Duration of role:
Fixed / Short term
Start date:
14th November 2020
End date:
14th November 2020
Opportunity times:
| | Mon | Tue | Wed | Thu | Fri | Sat | Sun |
| --- | --- | --- | --- | --- | --- | --- | --- |
| Morning | | | | | | | |
| Afternoon | | | | | | | |
| Evening | | | | | | | |
Can reasonable adjustments be made regarding additional needs?
Yes
Is this organisation part of the Sports Volunteering Scheme (SVS)?:
No
Minimum hours commitment
2 hours