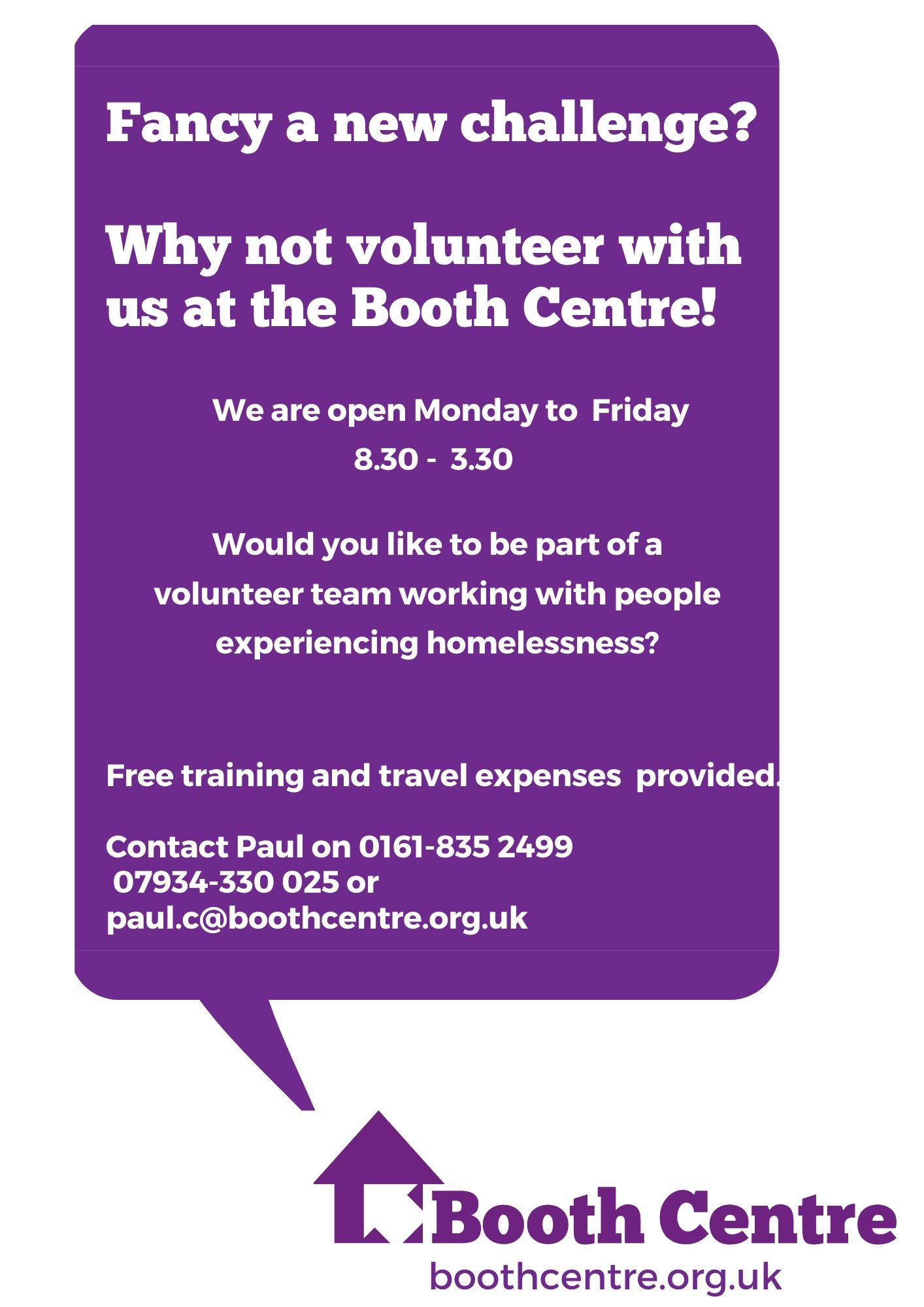 Area of interest:
Administration, Advice, Information and Support, Art and Design, Asylum Seekers and Refugees, Caring, Catering, Community Work, Culture, Counselling and Listening, Disability , Domestic Violence, Drugs, Alcohol and Addictions, Education, Environment and Gardening, Event Support, Fundraising, Health and Wellbeing, Homeless and Housing, IT, Languages, LGBT+, Marketing, PR and Media, Mental Health, Mentoring, Befriending and Buddying, Museums, Music , Older People, Practical Work and DIY, Prisoners and Ex-Offenders, Race and Ethnicity, Research, Teaching, Training and Coaching
Stellify Award:
This opportunity is part of 'Make a Difference'
Organisation Details:
Activities and Day Centre for Homeless People
Description of role
Volunteers at the Booth Centre (www.boothcentre.org.uk) are involved in many things: helping to prepare and serve hot food (we provide 800 meals a week), cafe assistants, helping with activities such as music cafe, internet cafe, job club, quiz, arts & crafts, bingo, gardening and maintaining the building. Helping with the Centre's sports activities such as crown-green bowling, table tennis, soccer or boxing.
Volunteers will also be asked to assist with administration and reception work and re-stocking the store rooms with food items.
One of the most important aspects of the role is to be able to chat to the people who use the Centre, many of whom, have great challenges in their lives and find it comforting to be able to chat to people of all ages, backgrounds and cultures.
ABOUT THE BOOTH CENTRE
​The Booth Centre is here to bring about positive change in the lives of people who are homeless or at risk of homelessness, to help them plan for and realise a better future.
​We do this by working alongside the people attending the centre, to provide activities which help people rebuild confidence and learn something new whilst having fun and building social connections. We run arts, employment and skills sessions daily and offer everyone a healthy, free breakfast and lunch.
​Advice is available to help people find accommodation and overcome the practical difficulties they are facing.​
Skills / qualities associated with the role:
Creative Skills, Administration, Customer Service, Event Planning, IT Skills, Oral Communication Skills, Practical Skills, Team Working, Written Communication Skills
Are volunteer expenses available?
Yes
Duration of role:
Ongoing / Long term
Opportunity times:
| | Mon | Tue | Wed | Thu | Fri | Sat | Sun |
| --- | --- | --- | --- | --- | --- | --- | --- |
| Morning | | | | | | | |
| Afternoon | | | | | | | |
| Evening | | | | | | | |
Can reasonable adjustments be made regarding additional needs?
Yes
Is this organisation part of the Sports Volunteering Scheme (SVS)?:
No
Minimum hours commitment
1 morning or 1 afternoon per week
Edward Holt House, Pimblett Street,