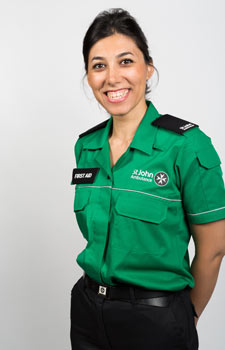 Area of interest:
Caring, Community Work, Driving, Drugs, Alcohol and Addictions, Event Support, First Aid, Health and Wellbeing, Hospitals and Hospices, Mental Health, Older People
Stellify Award:
This opportunity is part of 'Make a Difference'
Organisation Details:
St John Ambulance is the nation's leading first aid charity.
Every year, 400,000 people learn how to save a life through our training programmes, including hundreds of thousands of young people. Our volunteers provide first aid in their communities, keeping people safe at events, and working alongside the NHS in response to 999 calls. We're also always campaigning to raise awareness of first aid and directly educate the public.
First aid is such a simple skill, but it has an incredible impact. We want everyone to learn it, so that they can be the difference between a life lost and a life saved.
Description of role
Event First Aiders
St John Ambulance First Aider volunteer
Be part of a team that saves lives
As an event first aider, you'll provide first aid care to people in need at public events. This volunteer role can see you at professional football matches, theatres, music festivals and big sporting events such as the London Marathon.
You don't need previous first aid experience to become a first aider – we'll give you all the training you need.
If you've got good communication skills and want to help people in your community, we'd love to have you on our team.
'I didn't have any first aid training before I signed up as a volunteer. I actually hate the sight of blood! But when someone's in need, all the things you usually worry about don't seem to matter. Being a St John Ambulance volunteer gives me a reason to reach out to others. When you give something of yourself, you get a lot in return.' – Samira, First Aider
Role based at Manchester Student Volunteering Unit
Skills / qualities associated with the role:
Administration, Event Planning, Leadership, Oral Communication Skills, Practical Skills, Team Working
Are volunteer expenses available?
Yes
Duration of role:
Ongoing / Long term
Opportunity times:
| | Mon | Tue | Wed | Thu | Fri | Sat | Sun |
| --- | --- | --- | --- | --- | --- | --- | --- |
| Morning | | | | | | | |
| Afternoon | | | | | | | |
| Evening | | | | | | | |
Can reasonable adjustments be made regarding additional needs?
Yes
Is this organisation part of the Sports Volunteering Scheme (SVS)?:
No
Minimum hours commitment
1 hour per week plus events