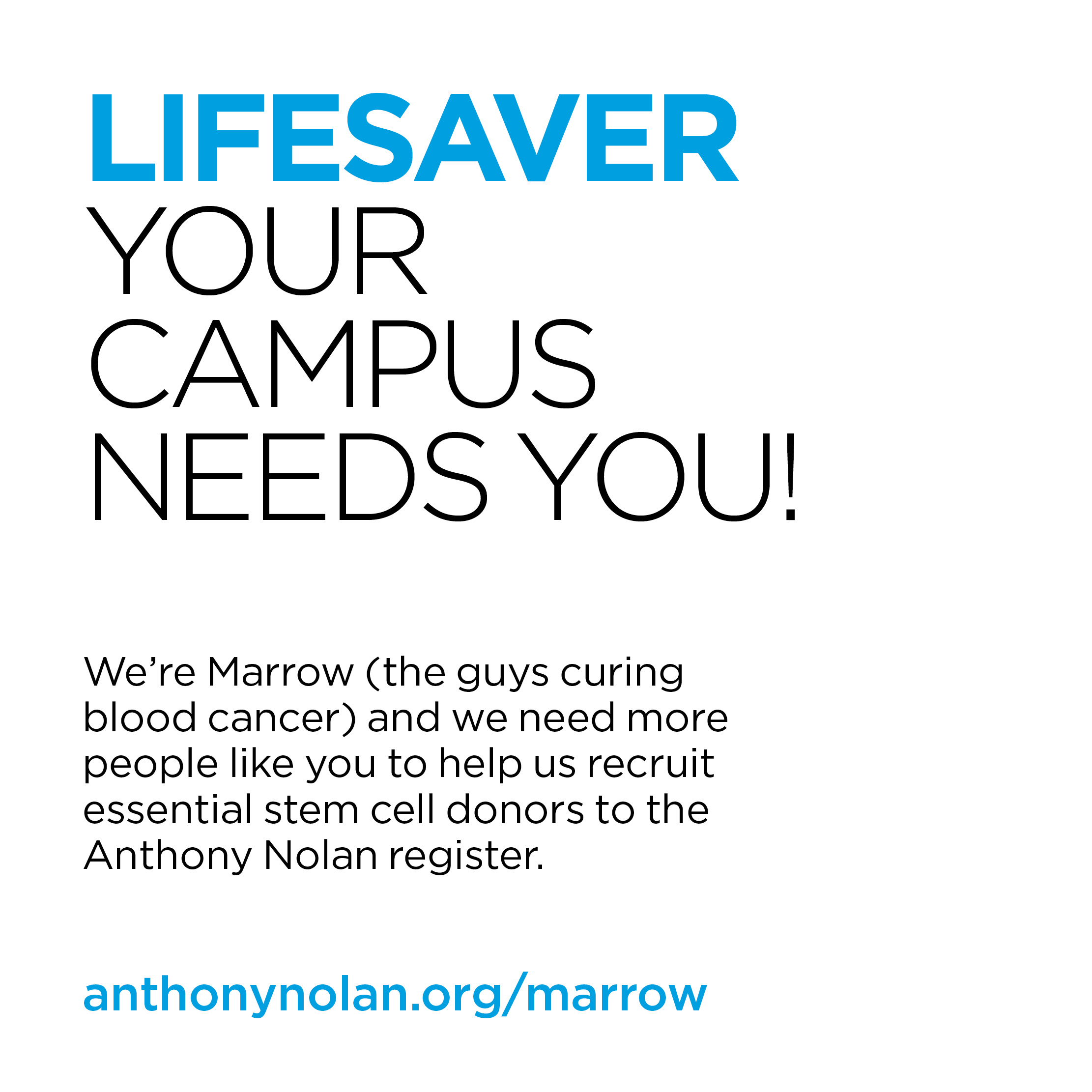 Area of interest:
Fundraising, Health and Wellbeing, Hospitals and Hospices, Science and Technology
Stellify Award:
This opportunity is part of 'Make a Difference'
Organisation Details:
We are the University run branch of Anthony Nolan. We help people with blood cancers like leukaemia by signing people aged 16-30 to the stem cell register. Be a match, save a life.
Description of role
Want to make great friends whilst saving lives?
Want a volunteering opportunity that looks amazing on your CV and is FLEXIBLE?
JOIN MARROW!
Marrow is the university branch of Anthony Nolan, the leading blood cancer charity. Some blood cancer patients need life-saving stem cell transplants. If people can't find their lifesaving match in their family they turn to our stem cell register.
So, where do we come in? Young people are the best potential donors! Marrow works to sign as many students onto the register as possible to find more matches and save the more lives!!!
We're looking for volunteers to help us put on donor recruitment events. This involves approaching students and explaining to them what the stem cell register is and answering their questions. Then, you help them fill in the form and do a quick cheek swab.
There's a quick volunteer training session before you join us so that you learn more about the charity and so you'll be fully equipped to answer people's questions.
This is a very flexible opportunity-we hold bi-weekly events around campus. We're grateful for any amount of time you can give us, but we won't pressure you, as we understand that we all have Univeristy deadlines!
Join 'Manchester Marrow' on Facebook and keep an eye out for any training events, or message us on Facebook and we'll arrange to meet up with you for training!
Skills / qualities associated with the role:
Customer Service, Fundraising, Oral Communication Skills, Team Working
Are volunteer expenses available?
No
Duration of role:
Ongoing / Long term
Opportunity times:
| | Mon | Tue | Wed | Thu | Fri | Sat | Sun |
| --- | --- | --- | --- | --- | --- | --- | --- |
| Morning | | | | | | | |
| Afternoon | | | | | | | |
| Evening | | | | | | | |
Can reasonable adjustments be made regarding additional needs?
Yes
Is this organisation part of the Sports Volunteering Scheme (SVS)?:
No
Minimum hours commitment
As little or much time as you can give us!