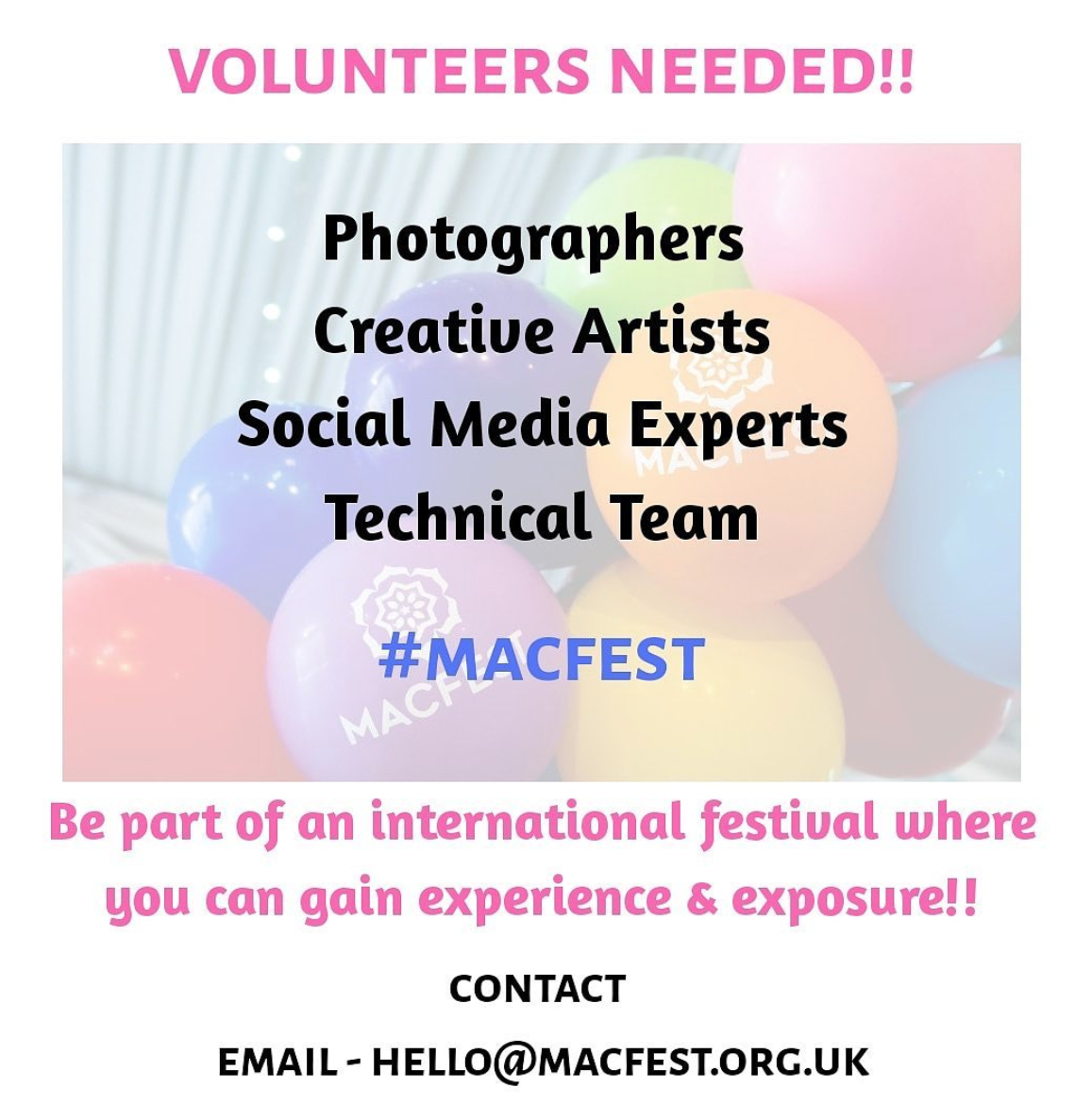 Area of interest:
Administration, Art and Design, Community Work, Culture, Education, Event Support, Fundraising, Human and Civil Rights, International , Marketing, PR and Media, Museums
Stellify Award:
This opportunity is part of 'Make a Difference'
Organisation Details:
Muslim Arts & Culture festival needs your help building our amazing festival and tackling hate.
Description of role
We aim to bring Muslim and non-Muslim communities together, promote social inclusion and overcome barriers.
MACFEST 2020 successfully hosted over 50 events in 9 days across the city of Manchester! There is something for everyone at MACFEST with debates, panels, book launches, art & photography exhibitions, Nasheeds and workshops. We were thrilled to bring both a local and international line-up of speakers, performers and artists from countries including Morocco, France, Bosnia and more!
MACFEST 2021 is on its way to bring back all of this and more but we need your help to make it a success! We hold regular meetings where our volunteer team gets together, discuss and plan how we will go forward using different mediums and channels to making our various events professional, safe, inclusive and enjoyable. If you have skills you are looking to develop and want to become a part of the family putting on the UK's first Muslim Arts and Culture Festival then send us an email, come along to our next meeting and lets get started!
Skills / qualities associated with the role:
Numeracy and Finance, Creative Skills, Administration, Commercial Awareness, Customer Service, Event Planning, Fundraising, IT Skills, Marketing and PR, Practical Skills, Research, Team Working, Written Communication Skills
Are volunteer expenses available?
Yes
Duration of role:
Ongoing / Long term
Start date:
10th October 2019
End date:
29th February 2020
Opportunity times:
| | Mon | Tue | Wed | Thu | Fri | Sat | Sun |
| --- | --- | --- | --- | --- | --- | --- | --- |
| Morning | | | | | | | |
| Afternoon | | | | | | | |
| Evening | | | | | | | |
Can reasonable adjustments be made regarding additional needs?
Yes
Is this organisation part of the Sports Volunteering Scheme (SVS)?:
No
Minimum hours commitment
1-4 hours per week