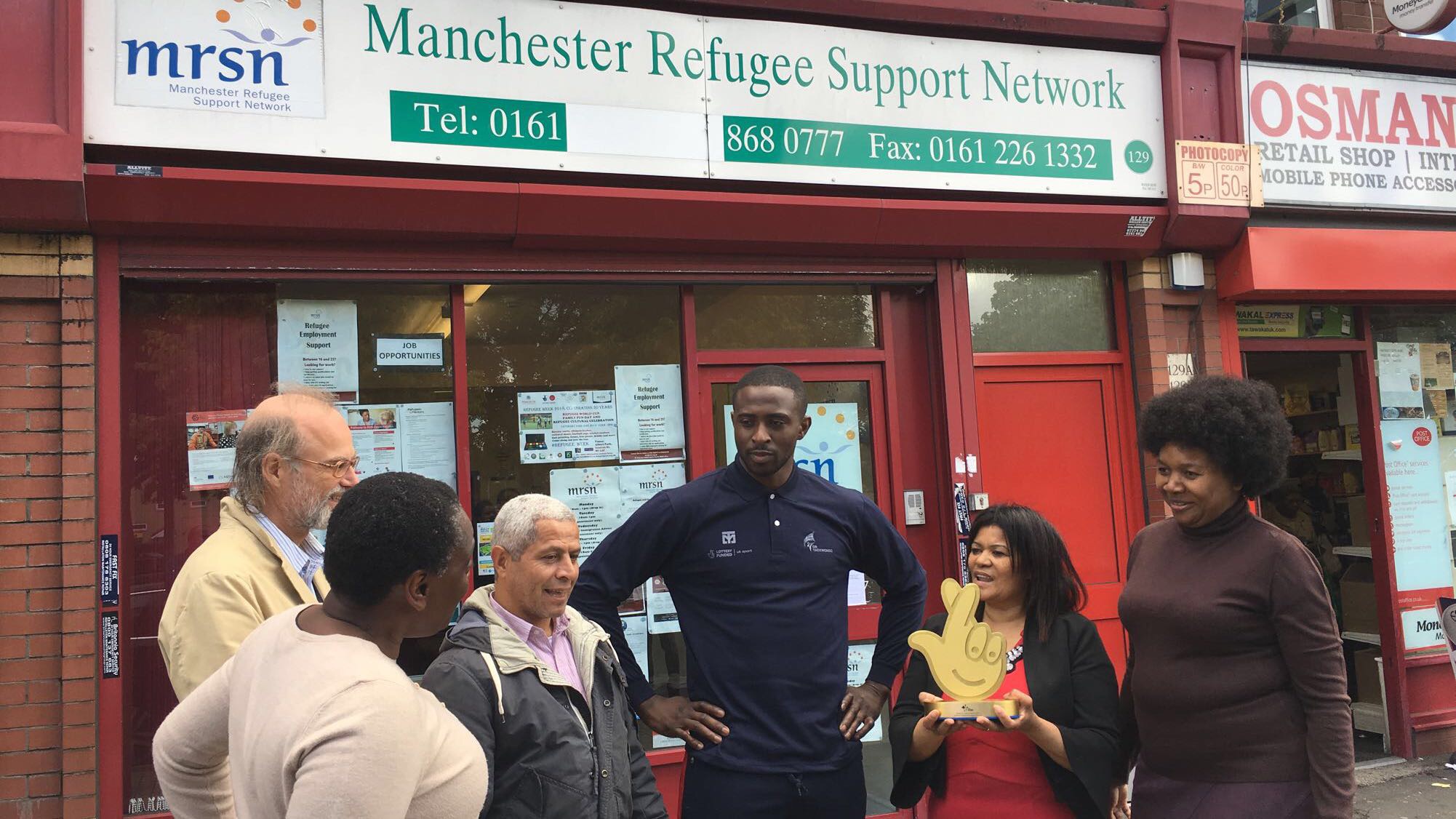 Area of interest:
Administration, Asylum Seekers and Refugees, Campaigning and Lobbying, Caring, Community Work, Counselling and Listening, Education, Event Support, Finance , Fundraising, Health and Wellbeing, Heritage, Homeless and Housing, IT, Marketing, PR and Media, Mental Health, Mentoring, Befriending and Buddying, Race and Ethnicity, Research, Teaching, Training and Coaching, Trusteeship and Committee Work , Youth Work and Young People
Stellify Award:
This opportunity is part of 'Make a Difference'
Organisation Details:
Manchester Refugee Support Network (MRSN) is a grass-roots organisation directly managed by refugee communities, based in Manchester. For over 22 years, we have been providing practical support to those fleeing persecution, conflict, and various forms of injustice and abuse
WE WORK TO:
• Meet the needs of asylum seekers and refugees in Manchester
• Advance the education and training of refugees and asylum seekers
• Strengthening the influence and involvement of refugees in shaping the decisions and processes that affect their lives life in Manchester
• Positively influence perceptions of asylum and refugees in Manchester
• Support and promote the physical and mental health of refugees and asylum seekers
• Build strong and independent refugee community organisations,
• Develop the skills of community leaders
• At MRSN, we help refugees and asylum seekers to get the basic support they need to live again with dignity. Then we help them build safe, happy and productive lives in the UK.
Description of role
Manchester Refugee Support Network (MRSN) has been providing practical support to Manchester citizens fleeing persecution, conflict, and various forms of injustice and abuse for nearly 25 years now. We are now considered an essential part of the Moss Side community and include the membership of over 20 local refugee community organisations (RCOs). Our motto of 'Bridges, Not Walls' has sadly become all the more pertinent in recent years.
We have continued to tirelessly support the needs of Manchester's refugee population despite ongoing and increasing hostility towards them, and despite a massive reduction to our government funding after 2010. These days we are more reliant than ever on charitable donations and grants. However, we are a small team of people, with only four paid members of staff and around twenty volunteers who kindly donate as much of their time as they can around their other commitments. It is also incredibly difficult to find the time to complete fundraising or grant applications that are essential to maintaining the business. Every week there are countless opportunities for crucial funding that we have to pass up on simply because we don't have the time to make the application.
We desperately need enthusiastic and creative volunteers to assist in our grantsmanship and fundraising. The ideal volunteer would not only have a great command of the English language, and be able to succinctly and engagingly put important points across, but also have an inventive mind able to think of essential needs of the refugee community that MRSN would be able to cater for with the right grant or fundraising opportunity. Volunteers would not be required to locate funding opportunities, but to think of how opportunities presented to them could be utilised by MRSN and then to expertly explain in the application the benefits of MRSN's proposal. We would also want you to contribute ideas for projects, events and developments that you believe MRSN could stage: we are are aware that the staff at MRSN might been working in the sector for too long and find it hard to think 'outside the box' for new ideas to help the region's refugee population and would really benefit from a bit of outsider perspective.
We also desperately need to make proper strides into the world of online fundraising. MRSN can sometimes be accused of an organisation that's a little too stuck in the past, and that applying for grants from charitable institutions is not the most efficient way of raising funds in 2019. We really need the insights of someone who has a bit of knowledge about the online funding world and can help MRSN gain a real presence on sites like GoFundMe, JustGiving, and other sites we're unlikely to have even heard of!
If you want to see your intelligence and creativity make a real difference, please get in touch
Skills / qualities associated with the role:
Numeracy and Finance, Creative Skills, Administration, Commercial Awareness, Event Planning, Fundraising, IT Skills, Marketing and PR, Practical Skills, Project Management, Research, Written Communication Skills
Are volunteer expenses available?
Yes
Duration of role:
Ongoing / Long term
Opportunity times:
| | Mon | Tue | Wed | Thu | Fri | Sat | Sun |
| --- | --- | --- | --- | --- | --- | --- | --- |
| Morning | | | | | | | |
| Afternoon | | | | | | | |
| Evening | | | | | | | |
Can reasonable adjustments be made regarding additional needs?
Yes
Is this organisation part of the Sports Volunteering Scheme (SVS)?:
No
Minimum hours commitment
3 hours per week